I am glad to be here to get support from you guys.
I have installed firezone on my Fedora Server 36 successfully. The server I used is already running Nextcloud on port 443 using apache, and this Server is behind Firewall and assigned local IP which is on some VLAN.
What I am trying to achieve here is, that I want to hide Nextcloud when accessed from outside, but serve without connecting to the tunnel when the requests are from the internal network. Here is the structure of my network: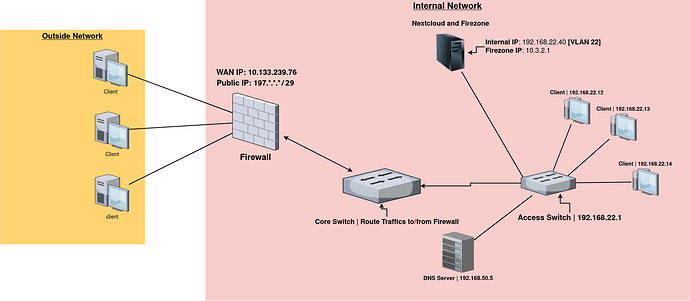 As I described in the pic, currently our traffic is routed to the WAN IP on Firewall, not the public IP, that's how we browse the internet. Currently, I port forwarded port 3001 (using the public IP)-(firezone admin panel) and port 443 to access Nextcloud; both are working for me. But as I said above I only want to access Nextcloud and other local servers through the tunnel, how can I achieve that?

Currently, when I connect to firezone from my phone, I can't access the internet. Which IP should I use as Endpoint?
Thank you.